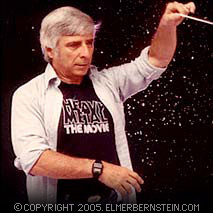 Introduction
The Two Bernsteins
During the late 1950s and early 1960s, it became necessary to differentiate between two very successful and popular composers/conductors with apparently the same last name--Bernstein. Leonard Bernstein, pronounced Burn-stine, was the famous pianist/conductor of the New York Philharmonic, star of the enormously popular Young People's Concert series that introduced classical music to the younger generation, and acclaimed composer of numerous concert and musical theater works, including West Side Story and On the Town. Elmer Bernstein, pronounced Burn-steen, also a concert pianist, earned his acclaim in the West-coast film industry, composing some of the most memorable, melodic, and exciting film scores over five decades. This is the man who wrote music for Moses, the Magnificent Seven, the Cooler King, Scout and Jem, Rooster Cogburn, the Ghostbusters, Daniel Day Lewis, and Martin Scorsese. So, lest there be any confusion identifying the two (and to dispel the myth that they were brothers), Leonard became known as Bernstein East (signifying New York), and Elmer was dubbed Bernstein West. We love Lenny, but this site is dedicated to Elmer Bernstein, our favorite composer.
EB and the Role of the Film Composer
To appreciate the role of a film composer of Elmer Bernstein's stature, one must understand the demands of creating music that serves the characters, the story, and the comedy or drama within a film. A film scorist must be more than an artistically and technically capable composer of music; he must understand the film medium intimately. He must be an expert dramatist, able to interpret what is shown on the movie screen into music that expresses what the characters are feeling, experiencing, or doing. He must understand the rhythm of a scene and which instruments work best against sometimes very quiet dialog. He must also know when to suggest not using music for certain cinematic passages or when to resist letting his ego take over a scene, when subtlety and understatement are what's needed. He must oftentimes be a musicologist, able to research and deftly use instruments intrinsic to a specific culture or historical period. He must understand the Director's intent and be able to have a constructive dialog with these professionals who are often not well versed in music.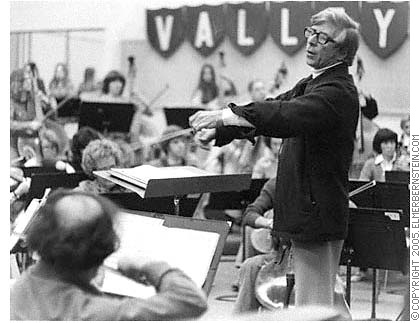 It's Elmer Bernstein's expertise in all of these roles that makes him such a superlative film music craftsman. But Elmer is more than this; he composes music that can fill us with deep emotion or excitement. We love his wonderful brass and percussion fanfares playing huge chords to kick off a western or war film. We are moved by the delicacy of his woodwind writing. We marvel at his seemingly endless supply of memorable melodies (leitmotifs), rich harmonies, and fluid counterpoint. We are astonished by his range and comfort in jazz, religious, war, human drama, comedy, or western genres. Finally, we are ever thankful that his music is well preserved not only in the films, but on well over a hundred LPs and CDs for us to enjoy in our living rooms. These soundtracks are also a shining testament to his power at the podium. The more you delve into these recordings, the more you realize what a splendid conductor he was. There's spark and warmth to his conducting and you get a sense that the players are almost breathing together they are so in the moment.
The Art of Film Composer Elmer Bernstein
I authored this tribute site to examine, study, and most of all, to celebrate the music of Elmer Bernstein. I hope that people of varying interests--that is, film buffs, film music buffs, music students curious about this art form, and even soundtrack collectors--will find it insightful, fun, and maybe even educational. I hope it will inspire people to watch (and listen to) the films EB scored and to listen to his music on CD.
But I also prepared this tribute for selfish reasons; this man and his music have had an inestimable impact on my life. His music has taken me on an emotional journey of euphoria, melancholy, nostalgia, hope, and indescribable joy. I find it playing in my head at the oddest times--in my car, walking my dog, sitting on the deck in the back yard watching my son on his trampoline, looking for river rocks on the Rio Chama, and practically every time I see folks riding horses in rural New Mexico. I guess I simply feel compelled to tell people about it--to evangelize the uninitiated, to share this wonderful gift.
I have not provided much of a biographical portrait of Mr. Bernstein, as there are many excellent books and websites that recount the chronology of his illustrious career. Rather, I have concentrated on what makes his music scores so good, why they enhance our enjoyment of watching a movie, and why we want to experience his music over and over again.